Apple Apps Are Incorrectly Ranked on Some iOS Devices

As it was spotted by analysts from Sensor Tower, the iOS App Store Top Free Charts section may display incorrect ratings for such apps as Pages, Keynote, Numbers and iMovie on a number of devices. The researchers claim that on some iOS gadgets the aforementioned apps have higher ratings than on the desktop App Store version and other iOS devices. As an example, the experts show the screenshots of the App Store Top Free Charts on the iPad mini 2 and on the iPhone 6s Plus. In the first case, we can spot iMovie, Keynote and Numbers in the Top-10 list. In the second case, we don't see any of these applications among the first ten most popular.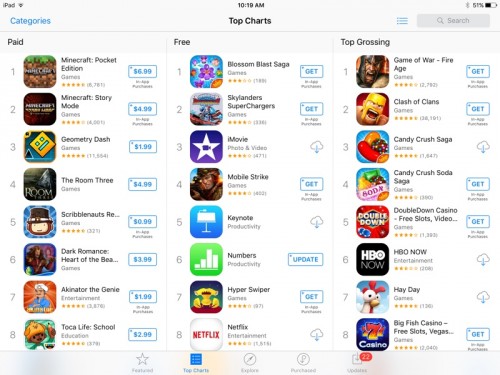 As TechCrunch points out, it's not clear if the discrepancy between App Store Top Chart listings is a bug or an intentional manipulation by Apple, but given the significantly different results from device to device, even those that are the same generation, it seems more like a bug than something done deliberately.
Do you see any Apple applications in the Top Free Chart on the App Store? If so, please tell us what device you use.
[via MacRumors]

Leave a comment