Apple Became Top U.S. Smartphone Manufacturer in February

According to the latest report from comScore, back in February, Apple became the top smartphone manufacturer. In the United States, its OEM market share equalled to nearly 42%.
Here are some fact and figures. Among the 186.3 million smartphone owners in the USA, 41.7% were iPhone users. The second place in terms of market share was occupied by Samsung with 28.6%, the third - by LG with 8.3%, the fourth - by Motorola with 5.1% and the fifth - by HTC with 3.8%.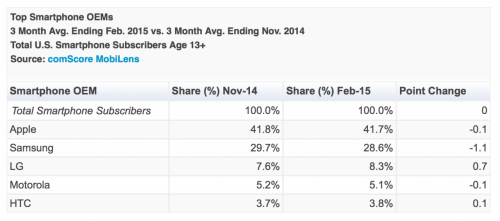 Apple ranked as the top OEM with 41.7 percent of U.S. smartphone subscribers. Samsung ranked second with 28.6 percent market share, followed by LG with 8.3 percent (up 0.7 percentage points from November), Motorola with 5.1 percent and HTC with 3.8 percent (up 0.1 percentage points).
As to the top smartphone platform, Google's Android was once again unbeatable. Its market share in February was equal to 52.8%. Apple's iOS managed to get the second place with 41.7% and Microsoft with its Windows Phone platform occupied 3.5% of the smartphone market in the USA and got the third spot.
What smartphone do you use? Have you ever thought about switching to the rival platform? I'm waiting for your comments below this post.
[via iClarified]

Leave a comment