Apple Became Top Wearables Vendor – Analyst

According to the latest report shared by Strategy Analytics, Apple has overtaken Fitbit and become the largest wearables vendor in the world. During the last calendar quarter, the company shipped 3.5 million Apple Watch units and took 15.9% of global market. In the first quarter of 2016, Apple's market share was 12.1% and the shipments accounted for 2.2 million units.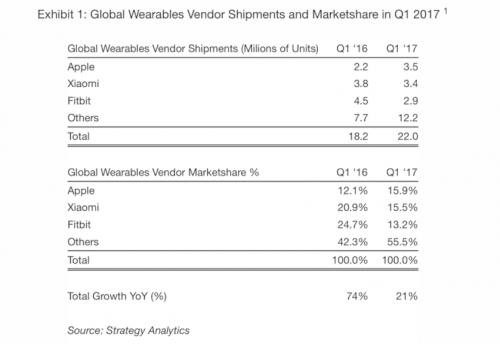 Last year, Fitbit was the leader of the market with 23.7% market share and 4.5 million wearables shipped to customers in Q1. In the first quarter of 2017, the company's share was 13.2% and the shipments were 2.9 million. Xiaomi's share was 15.5%, while the shipments accounted for 3.4 million. Last year, this vendor captured 20.9% of market and shipped 3.8 millions of wearables.
Apple typically doesn't disclose the exact number of Apple Watch units sold to customers, so we should rely on the latest figures provided by Strategy Analytics. The firm has a team of skilled analysts uses the information from reputable sources.
[via 9to5Mac]

Leave a comment