Apple Begins Offering Refurbished iPad Airs

Good news for all those who want to buy an iPad Air, but lack enough money for a brand new tablet: Apple has started selling refurbished iPad Air through its online store. And the prices are more than affordable. For instance, Wi-Fi model with 16GB of memory on board costs only $419.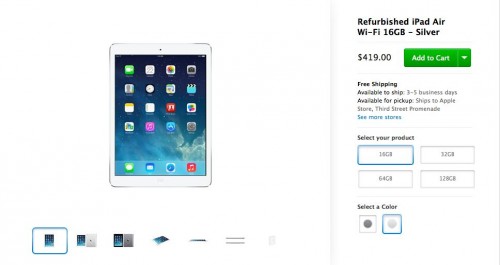 According to what iClarified writes,
Pricing on the refurbished devices is as follows:

iPad Air WiFi 16GB ($419)
iPad Air WiFi 32GB ($509)
iPad Air WiFi 64GB ($589) [Out of Stock]
iPad Air WiFi 128GB ($679) [Out of Stock]
The company from Cupertino claims its Certified Refurbished Products are of top quality. In fact, Apple even gives a one-year warranty on such devices and offers each customer the possibility to return the tablet within 2 weeks after its purchase if anything's wrong with it. Moreover, you can buy an AppleCare Protection Plan and forget about pricey repair of your iPad.

Leave a comment