Apple Begins Selling Sharp's 32-inch Monitors

According to 9to5mac, the company from Cupertino has begun selling Sharp's 32-inch 4K HD LED monitors through several international online stores. This is probably connected with the brand new Mac Pro launch, which is set for December.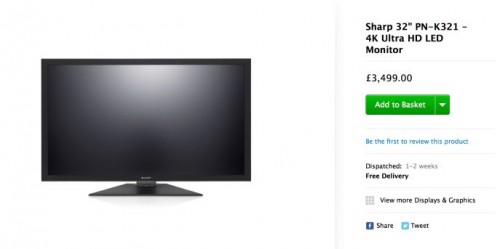 Here's the description of the Sharp's creation:
With its 32-inch class (31.5-inch diagonal) screen size, 3840 x 2160 high definition resolution and energy efficient edge-lit LED backlight, the Sharp PN-K321 monitor is ideal for professional applications where it's essential to view detailed information displayed with precision. This super-high resolution display allows you to view the content of four full HD screens on a single seamless display. It also features IGZO* technology, which supports increased pixel transparency and reduced current leakage, thereby making the monitor more energy efficient.
The reason for selling a Sharp's product via official online stores is the lack of Apple's own 4K screen. Some insiders claim that there's something like that in the works, however, these are only rumors; the release date can't be defined yet.

Leave a comment