Apple Blocks Access to News App in China

Apple is blocking access to the News app in China. This issue has already been spotted by a number of iPhone and iPad users in this country and a software developer named Larry Salibra. The decision to disable the long-awaited News app introduced in September as a part of iOS 9 in the aforementioned Asian country is probably caused by the strict censorship rules. In case you don't know, China is a very reserved country with lots of popular media resources blocked or unavailable for users.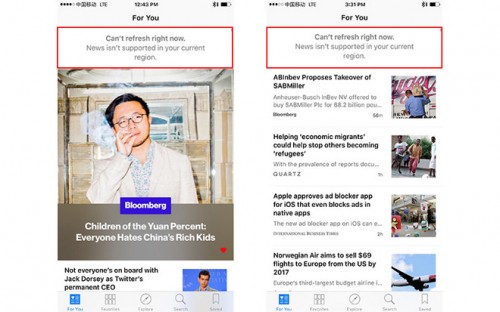 The issue was initially brought to light by software developer Larry Salibra, who last week noted Apple disables News when roaming in mainland China, a policy he finds "disconcerting." Apple has not yet acknowledge the situation, but The New York Times on Saturday cited a person with knowledge of the matter as saying News is indeed inaccessible in China.
Currently, the News app can be downloaded in the USA, UK and Australia. Customers from this countries can use it while travelling abroad. So far, the application has been working fine in most regions of the world, but probably because of Chinese government and its demands, Apple had to disable the functionality of the service in this country.
[via AppleInsider]

Leave a comment