Apple Confirms Date of Media Event Devoted to New iPhone

Just as we expected, the media event devoted to Apple's new iPhone and possibly iPad mini will take place on Wednesday, September 9th at Bill Graham Civic Auditorium in San Francisco, California. This time it's not a rumor; the guys from Cupertino have begun sending invitations to reporters. The tagline of this year's media event is "Hey Siri, give us a hint".
Such a slogan, so to say, was chosen not by accident. If you ask Siri to give you a hint, it will make up a joke about the upcoming big event. If you have an iPhone close at hand, try asking Siri yourself and you'll see I'm not joking.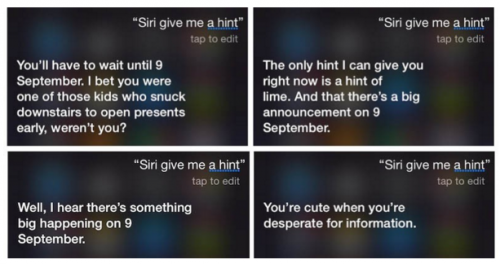 In case you missed all of the posts related to the iPhone media event, I'll give you a hint as well. On September 9th, Apple is expected to unveil the iPhone 6s, the iPhone 6s Plus with larger display and possibly the iPhone 6c with a smaller 4-inch display. Apart from that, we may see the next-generation iPad mini. This media event will be incredibly interesting.
Apple will live stream the presentation, so you will get an opportunity to watch it yourself on your iPhone, iPad, Mac, Apple TV and even PC. Moreover, soon after the official announcement you'll find a detailed review of each new device on our website. Stay tuned!
[Images: MacRumors]

Leave a comment