Apple Developers Get Attacked by Scammers

Scammers do their best to take advantage of Apple's Developer Center outage, ZDNet reports. This time they began sending fraudulent email messages to developers aiming to steal their Apple ID passwords.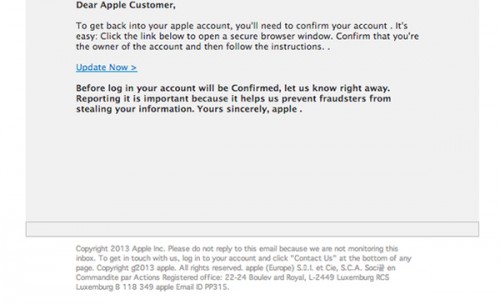 As you can see, these emails prompt the users to reconfirm their accounts in order to avoid sensitive information thefts. To do that, one needs to click on an 'Update Now' link and enter Apple ID and password on the next page.
However, this scammers' attack is most likely to be unsuccessful and here's why. You see, the email message is written with some easily noticeable grammar and punctuation mistakes. The most conspicuous one is the capital letter "A" missing from "Apple". So those developers who studied well at school won't be fooled.

Leave a comment