Apple Dominates the U.S. Smartphone Market, Samsung's Catching Up

According to the latest report shared by a research firm Parks Associates, Apple's iPhone still dominates the U.S. smartphone market, however, Samsung is catching up.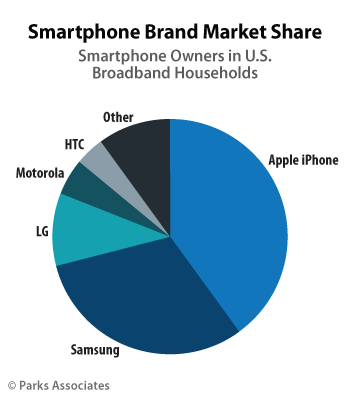 In particular, the iPhone share accounts for impressive 40%, while the one of Samsung is equal to about 31%. LG, which is the third most popular smartphone manufacturer in the United States of America takes about 10% of the market. Such vendors as Motorola and HTC close the Top 5 ranking with shares of about 5% each. There's also a pretty large "Other" section that includes smartphones manufactured by Huawei, OnePlus and some other companies.
"Apple remains the dominant smartphone manufacturer in the U.S., but Samsung is catching up," said Harry Wang, Director, Health & Mobile Product Research, Parks Associates.

[...]

Also, while Apple is clearly in the lead among broadband households compared to any other hardware makers, it's worth noting that the Android platform as a whole, which includes almost all manufacturers besides Apple, makes up around 60% of the pie.
If to speak about the worldwide smartphone market, Samsung is the top smartphone manufacturer with the share of 23.7%. Apple's share is close to about 13.6%, Strategy Analytics reports.
[via 9to5Mac]

Leave a comment