Apple doubles the size limit for apps downloaded over 3G data network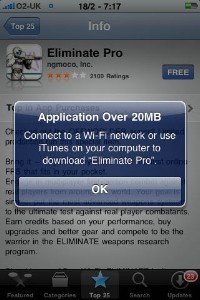 Apple decided to increase the limit of MB downloaded from the AppStore over 3G or cellular network. Previously applications could be bought if their size was less than or equal to 10 MB. Apps over this limit were available only through Wi-Fi. Many game and app creators deliberately whittle their software down to less than 10MB to make them more accessible to iPhone users.
This limit now has been doubled. Although it might not seem like a big difference for developers it is certainly a plus to both developers and end users.

Leave a comment