Apple earned $1 out of every $5 US consumers spent on electronics this holiday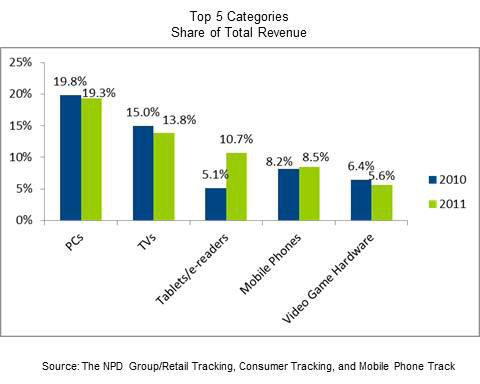 NPD's Retail and Consumer tracking Services and Mobile Phone Track found that Apple accounted for 19 percent, or nearly one in five, of all U.S. consumer dollars spent on electronics, during the busy holiday shopping season. Apple, consequently, remained the largest consumer electronics brand for the second year in a row.
All of the other top five brands beyond Apple actually saw a year over year decrease in revenue in 2011. HP's sales dropped by 3 percent, third-place while Samsung dipped 6 percent, fourth-place Sony slid 21 percent, and Dell, in fifth, lost 17 percent.
Total U.S. technology hardware and consumable sales fell one-half of a percent in 2011, finishing the year at nearly $144 billion. Nearly 60 percent of all sales were represented by the top five categories: PCs, TVs, tablets/e-readers, mobile phones, and video game hardware.
"U.S. hardware sales growth is becoming harder and harder to achieve at the broad industry level," said Stephen Baker, vice president of industry analysis at NPD. "Sales outside of the top five categories fell by 8 percent in 2011 as consumers shifted spending from older technologies to a narrow range of products."
The holiday quarter was Apple's best three-month period ever, as the company sold a record 37 million iPhones, along with 15 million iPads and 5.2 million Macs. Total revenue for the period was $46.33 billion, while earnings hit $13.06 billion.

Leave a comment