Apple Has Released Safari 6.1 Seed 6 for Developers

Apple has released Safari 6.1 Seed 6 for developers. It is compatible with OS X Lion and Mountain Lion and requires Security Update 2013-002. Here's what the company from Cupertino says about the new beta-version:
This pre-release version of Safari includes WebKit enhancements for better text, layout, and accessibility support. It also includes a redesigned Web Inspector with a streamlined toolbar, a new Activity Viewer, and other great tools for building and debugging your website. Please refer to the seed note for more details.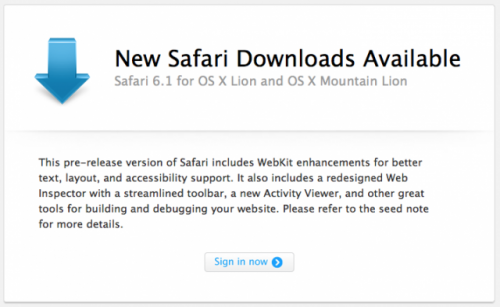 There's a bunch of new features embedded to Safari 6.1, you may take a look at them below:
Safari Sidebar
Shared Links (Mountain Lion only)
Continuous Reading (Mountain Lion only)
Easy Retweet (Mountain Lion only)
Redesigned Top Sites
Safari Power Saver
Third-party data blocking
Faster Javascript
iCloud Tabs autocomplete (Mountain Lion only)
Yandex search built-in
Sandboxed plug-ins
PDF sandboxing
CSS Regions and Exclusions
Sticky positioning
Kerning and Ligatures
Sideways text orientation
Web Speech API and more.
If you're a developer, you can download Safari 6.1 Seed 6 right now.

Leave a comment