Apple Hires Former Tag Heuer Executive

According to the latest reports from people familiar with the matter, Apple has recently hired former Tag Heuer executive named Patrick Pruniaux. This indicates that the guys from Cupertino will soon release a smartwatch, which is expected to feature a 2.5-inch curved display and a number of health-monitoring sensors.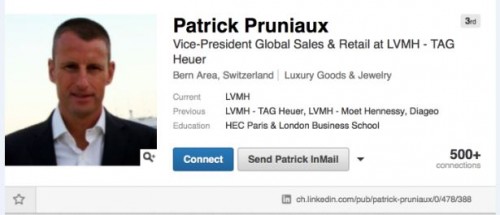 Pruniaux was one of the key figures at Tag Heuer. He worked as the Vice President of Sales and Retail. At Apple, he will probably get a position connected with iWatch sales.
Earlier today, the CEO of Tag Heuer revealed to CNBC that Apple has hired one of the watch-makers sales directors. However, the company did not announce the name of this "director" or the person's exact position. A source directly familiar with the Apple hire confirmed that the Cupertino-based company hired Patrick Pruniaux late last month.
Over the past few months, the guys from Cupertino have hired a number of experts capable of making the iWatch one of the best smartwatches on market. Patrick Pruniaux  is one of those experts.
Apple is expected to release its long-anticipated wearable device this fall. Let's wait.
[via 9to5Mac]

Leave a comment