Apple interested in swappable iPhone camera lenses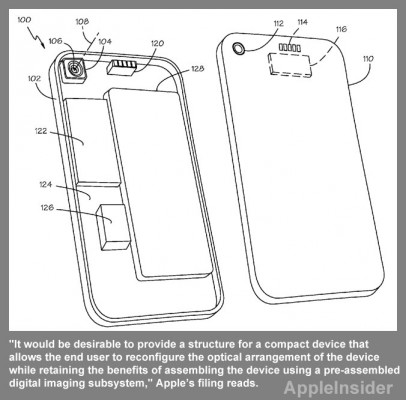 Apple offers a new concept of an improved iPhone camera system that would allow users to reconfigure or replace camera lenses. The details of Apple's new invention were published by the U.S. Patent and Trademark Office on Thursday.
The filing notes that as the quality of digital images taken with highly compact devices increases, users seek even more sophisticated features typically only found with high-end digital cameras. Features such as supplementary lenses and filters, optical zoom, and optical image stabilization are not typically found in multifunction devices that include a camera.
Most part of mobile devices has a pre-assembled digital imaging subsystem to make them compact, but doesn't allow to replace camera lenses.
"It would be desirable to provide a structure for a compact device that allows the end user to reconfigure the optical arrangement of the device while retaining the benefits of assembling the device using a pre-assembled digital imaging subsystem," the filing reads.
Apple offers a portable device, like an iPhone, that includes a digital imaging subsystem. The device would feature a removable back panel that, when removed, would expose the digital imaging subsystem. Apple's system would include the IR-cut filter on the removable panel, which would allow photographers to remove it and capture black-and-white images at very low light levels. The optical component on an iPhone would also feature a close-up lens that would reduce the focal distance and allow for extreme close-up photography.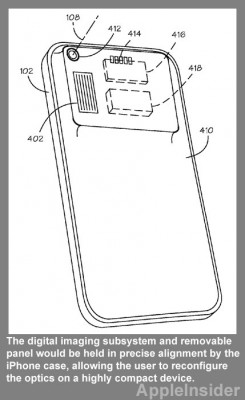 Write my paper offers professional help with writing a paper.

Leave a comment