Apple Is Facing Patent Infringement Lawsuit Over Siri In China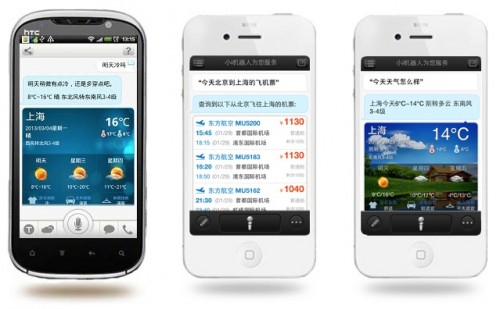 iOS version of Xiaoi (center and right) and Android version of Xiaoi (left)
As Shanghai Daily reports, Apple is facing a suit in China from a local company claiming that Siri infringes on its patent rights. The court in Shanghai will hold a pre-hearing today where Apple and the plaintiff, Shanghai Zhi Zhen, should exchange evidence. The report notes:
"Siri is very similar to Xiaoi, a chat robot system we have been developing since 2003," said Mei Li, a spokeswoman of Shanghai Zhi Zhen which filed the lawsuit.

Mei said her company applied for patent rights for Xiaoi in 2004 in China and the patent right went into effect in 2006.
The Xiaoi started life as a chatterbot for MSN and similar networks, but has since migrated to several platforms including iOS and Android and has evolved to look fairly similar to Siri, though the iOS version of the app uses a different design for the microphone button and icon.
AFP reports that Zhi Zhen is seeking to halt sales of infringing Apple products and to reserve the right to demand compensation for damages in the future.

Leave a comment