Apple Is Going To Remove Evi From App Store Due To Similarities With Siri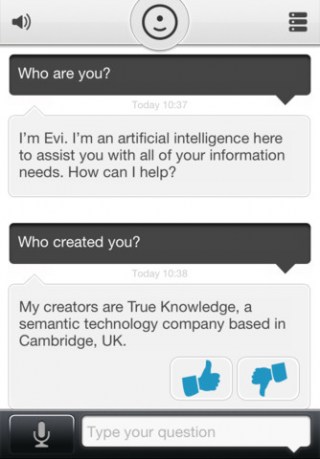 TechCrunch reports that True Knowledge, a company behind a popular Siri-like app for iOS devices, received a call from Apple, who informed that the company is going to remove Evi from the App Store due to its similarities with Siri.
But pundits says that Evi – which combines speech recognition engine from Nuance and its own search technology called True Knowledge Answer Engine – may present a threat to high iPhone 4S sales because users running Evi on their iPhone 4 or other devices may not be compelled anymore to buy an iPhone 4S.
Evi hit the App Store last month as a Siri alternative for iOS devices. The app costs 99 cents and has already seen 200,000 downloads, which proves that there's a huge market for such programs on mobile devices. It is also sold through Android Market so the removal of the app from App Store will not affect its availability on the competing Android platform.
It is not entirely surprising that Apple is not happy about Evi, as the company advertised Siri as the killer software feature and made it exclusive to the iPhone 4S. Also NPD Group recently discovered that Siri greatly helped turn iPhone 4S into the best-selling handset during last holiday season. Their study showed that new iPhone 4S outsold the iPhone 4 model by a whopping 75%.

Leave a comment