Apple Is The Best In U.S. Retail Sales Per Square Foot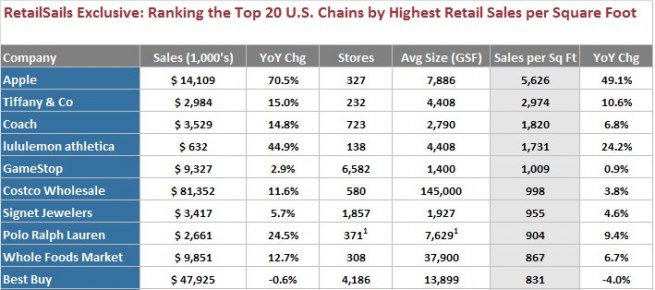 According to a survey from retail analysis company RetailSails, Apple is the best in retail sales per square foot among 160 top U.S. retailers. As the table above shows, Apple is nearly two times better than its closest competitor Tiffany & Co, and nearly five times better than its closest technology related competitor GameStop. It is impressive that Apple managed to become the best having much less experience ( ten years) than most of its competitors included in the survey.
Recently Apple has opened several new retail stores in UK, Spain and US, and is going to open three stores in Little Rock, Paris and Charlotte this weekend. According to USA Today, the company has lately become the fastest growing retailer in US with retail sales growing by $4.6 billion over the first quarter of 2011 (a 80% rise from the previous year).
USA Today reports:
"That increase accounted for one-fifth of all sales growth by publicly traded retailers in the U.S., according to a recent analysis of sales trends by retail sales expert David Berman".
In addition to USA, Apple is also successfully expanding in other countries. The company plans to open one store in Russia and new stores in EU many of which are among the thirty new stores Apple wants to open by this September.

Leave a comment