Apple Named World's Most Valuable Brand at $153 Billion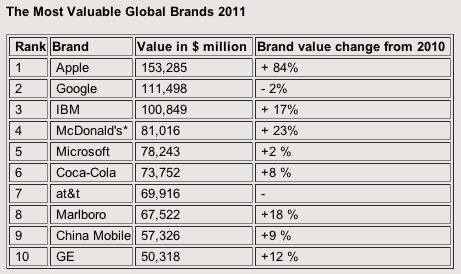 Marketing and advertising group WPP conducted its annual study of global brands and placed Apple at the top of the list of the most valuable brands for the first time. Brand values are calculated using an analysis of financial and market data alongside reports from analysts and surveys of over two million consumers around the globe. Apple checks in with a brand value of over $153 billion, up 84% over last year and well ahead of second-place Google, which had topped the survey for the previous four years, at $111 billion.
The Apple brand, as calculated by Millward Brown Optimor, a WPP company, has increased in value by 859 percent since 2006 and now stands at $153.3 billion. Other key findings in the study are that during the economic recovery of the last year, the combined value of all the brands in the top 100 has risen by 17 percent and is now worth $2.4 trillion.

Leave a comment