Apple Now Accepting Apple Watch Apps from All Developers

Several days after the release of the first-third party Apple Watch apps on the App Store, the guys from Cupertino have announced that they are ready to accept all the other WatchKit-based application for approval. Apart from that, Apple has updated its WatchKit website with the information on how to make the development of the apps easier and how to optimize them for the App Store. Apple has also provided its developers with the guidelines on creating the best possible icon or description for a particular app.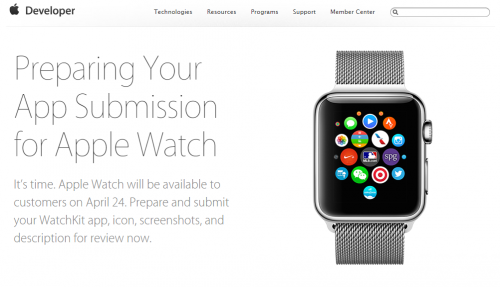 Apple announced on Tuesday that all registered developers can now submit Apple Watch app submissions based on WatchKit for approval on the App Store. A number of popular apps have already been updated with Apple Watch support on the App Store over the past week, and the approval process is now extended to all members of Apple's Developer Program.
As I have already mentioned, there are some third-party apps, which are already available on the App Store. These apps include Evernote, Sky Guide, Target, NYTimes, Yahoo Tourney Pick'em, The Wall Street Journal, MLB.com and several other. The long-awaited wearable device will hit the store shelves on April 24th.
[via MacRumors]

Leave a comment