Apple offered alternative designs for Galaxy Tab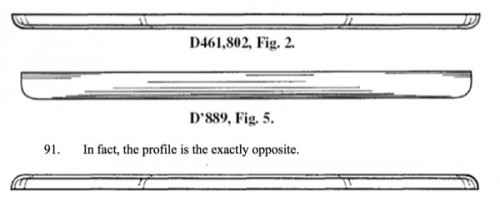 Comparison of iPad and Galaxy Tab profiles
The Verge reports that Apple offered an alterative design for Samsung's Galaxy Tab 10.1 in its July court case seeking a sales ban of the Galaxy Tab 10.1. Apple gave Samsung a list of tweaks that would allow the company to differentiate the two tablets (iPad and Galaxy Tab) and start selling Samsung's Galaxy Tab not violating Apple's patents.
The Korean electronics company argued that the patents Apple is using against the Galaxy Tab were based on functionality, and are thus required by all smartphones and tablet computers as part of a basic utilitarian design that is why Samsung had to use the design elements in question. But Apple believes that Samsung could use other options and that the Korean company purposely violated standing patents. To prove its point, Apple generated a list of possible alternatives that included:
A front surface that is not black.
A shape that is not rectangular.
No rounded corners.
A front surface that is not flat.
Varying Bezel size.
A device that is not thin.
A cluttered appearance.
In response, Samsung slightly changes design of its tablet and rebranded it the Galaxy Tab 10.1. However, Apple did not find these changes sufficient to warrant the lifting of the injunction.

Leave a comment