Apple Once Again Ranked World's Most Admired Company

Apple has been once again ranked World's Most Admired Company, surpassing its closest rivals, Alphabet and Amazon. As to the other members of the top-10 list, they include Berkshire Hathaway, Walt Disney, Starbucks, Southwest Airlines, FedEx, Nike and General Electric.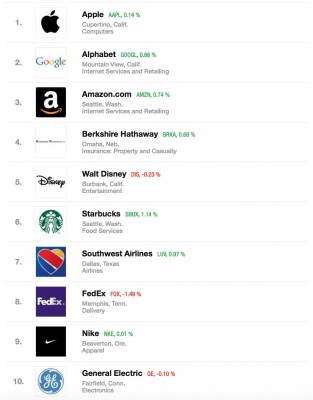 The ranking is based on the results of surveys from high-profile executives and experts, who select 10 companies they admire most from the list of last year's winners and those companies that show substantial success in their industries. Apple has topped the rating for the ninth year in a row, even though now the business struggles with some difficulties like the drop in iPhone and iPad sales.
To arrive at the top 50 Most Admired Companies overall, Korn Ferry Hay Group asked 4,000 executives, directors, and securities analysts who had responded to the industry surveys to select the 10 companies they admired most. They chose from a list made up of the companies that ranked in the top 25% in last year's surveys, plus those that finished in the top 20% of their industry.
What do you think about this year's World's Most Admired Company ranking? Leave your comments below this short post.
[via iClarified]

Leave a comment