Apple Online Store Now Accepts PayPal

Apple has recently added PayPal as a new payment option on its official online store in the USA and the UK. Earlier, one of the world's most popular payments services was available only on the App Store, but now you can use it to pay for real goods, such as iPhones, iPads, accessories etc. from Apple's retail store.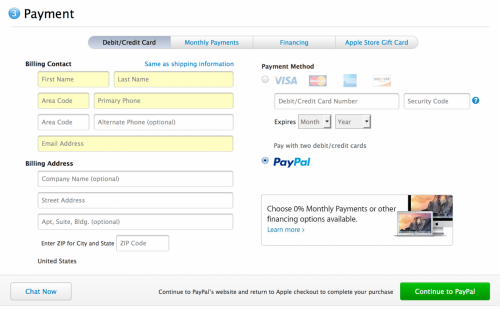 Apart from adding the support of PayPal, the guys from Cupertino made such an option as PayPal Credit available for the customers in the United States. In case you don't know, PayPal Credit allows customers to pay for goods in equal monthly installments without interest.
Apple.com shoppers in the U.S. and the U.K. have a new way to pay for the latest iPhone or iPad: PayPal. Previously available as a payment option only in Apple's app and content stores, PayPal is now accepted at the company's online retail store as well. Good news for PayPal, since Apple is the second largest online retailer in the U.S., according to Internet Retailer.
The rollout of the support of PayPal in the USA and the UK indicates that the guys from Cupertino are currently working on making such a payment option available in a wide range of countries in the near future.
Do you have a PayPal account? How often do you use it? Leave your comments below.
[via Re/code]

Leave a comment