Apple Patents: iPhone Used As Car's Smart-Key And Parking Locator For Cars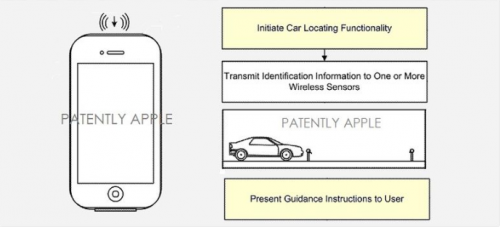 Patently Apple reported on a two car-related patent applications from Apple, one helping you locate your car that is parked in a large car-park, the other allowing you to use the iPhone as a smart-key.
The smart-key concept is based on using a Bluetooth connection from the iPhone to unlock the car, which could be performed either manually or through a proximity rule, unlocking the car as you approach it.
It also offers similar functionality to MyKey parental control system created by Ford – allowing you to set maximum speed limit and geofence limits (maybe not allowing it outside the home town or on freeways) and to limit access to the in-car entertainment system while driving.
While apps for locating a car in a parking lot are commonplace, the system designed by Apple differs from them in two ways. First, it is fully automatic and uses data from sensors and cameras to detect when you park the car. Second, it would work in underground car-parks, where GPS reception is not available, using the sensors installed in the garages. Apple's recent acquisition of indoor GPS startup company WiFiSLAM for $20 million might help Apple to put this concept into practice.

Leave a comment