Apple Preparing "All-New" iPod Nano And iPod Touch With 4-Inch Display And A5 Chip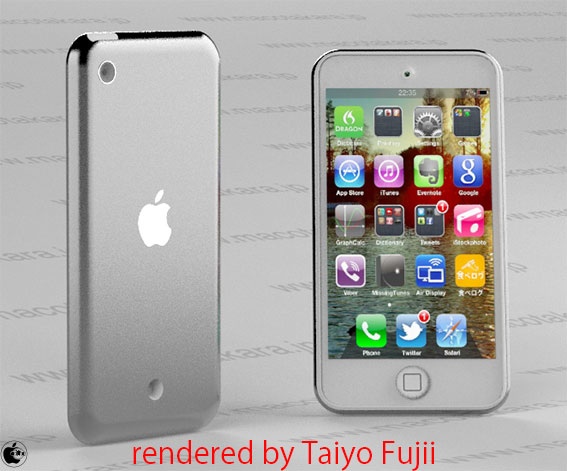 Mockup of the next iPod touch
Analyst Mink-Chi Kuo from KGI Securities today reported that Apple is planning to release "all-new" iPod nano and iPod touch in September. The upgraded iPod touch is said to have the new touch display based on in-cell technology that has been rumored by multiple sources for the next iPhone 5.
Kuo predicts that strong growth in iPod sales during the third quarter will be spurred by the new iPod nano model rather than the updated iPod touch, whose shipments will be hindered due to limited availability of in-cell touch display in the initial stage.
Last September Apple didn't make any major hardware modifications to the iPod touch, electing to merely introduce white iPod touch and reduce the price for entry-level models from $229 to $199.
Likewise, last September Apple didn't make any significant changes to the iPod nano, merely reducing pricing and releasing a software update. According to recent rumors, the iPod nano will see a complete redesign with rectangular display, home button similar to one found on iOS devices and oblong body.
In line with the Ming-Chi Kuo's report, Japanese blog Macotakara now claims that Apple will replace the current 3.5-inch display with a 4-inch display in the iPod touch. The blog also said that Apple will base iPod touch's hardware on the iPhone 4S and change its back-case design.
"CPU or other spec is considered to be same with iPhone 4S, and has different back-case design, which will be not mirror polished but buffed aluminum one. And it seems to be prepared black and white color model".
The sources also said that Apple included an additional hole in the lower part of the rear shell, but it is unknown yet what this hole is intended for.

Leave a comment