Apple Preparing to Begin Shipping Fifth-Generation iPod Touch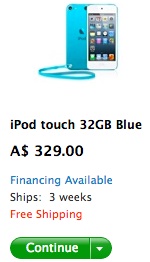 Last month, at the media event, Apple introduced the fifth generation iPod Touch. The updated version has a 4-inch screen, the same as the iPhone 5 and a number of color varieties. Apple immediately began taking pre-orders for the device, but in general it will be available in October.
Previously, pre-order customers reported that the statuses of their orders were changed to "Preparing for shipment", the final stage before delivery. Some customers in Australia reported that the delivery time of the fifth generation iPod Touch specified on Apple's Australian online store was changed from "October" to "three weeks." The delivery is expected on October 29. A similar difference was seen in the online store of New Zealand where the delivery is scheduled for November 2. However, new orders are likely to be shipped after the first batch of pre-orders placed three or more weeks ago.
Macotakara reports that the official launch of the iPod Touch and iPod nano in Japan is scheduled for October 9, but their supplies could be tight.

Leave a comment