Apple Relaunched Its Forums, Called Them Apple Support Communities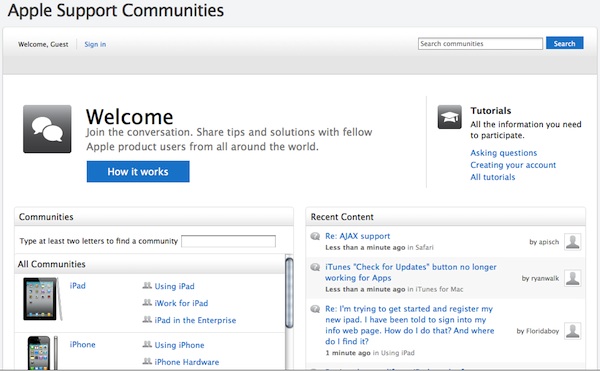 Last week Apple had officially upgraded its forums and renamed its Apple Discussion board to Apple Support Communities. The refresh reveals new design and social network features. Here what the official introduction reads:

"Apple Support Communities brings together thousands of Macintosh, iPod, iPhone, and iPad users from around the world to discuss Apple products and topics. Apple Support Communities provides a wealth of information about your favorite Apple hardware and software products to help you get the most out of your purchase. And, in the spirit of community, you can also help other Apple Support Communities' users by answering their questions."
So now users can browse "communities", create new discussions or join existing ones by liking and replying posts. To become a part of Apple Support Communities user should sign in with existing Apple ID, select a username and accept the new terms and conditions of ASC.
A new section called "Your View" allows to personally experience modular content categories with customizable widgets.
Another section named "Your Stuff" consists of Bookmarks, Documents, Discussions, Notifications, Communities, Preferences and, of course, Profile.
Obviously, the user interface of Apple Support Communities was inspired by iOS' UI.
Apple also posted a so-called "Community Etiquette" policy, which includes rules of behavior for users.
Those users who submit correct and helpful response will receive reputation points and thus increase their status level, unlock greater privileges (which are currently unknown).


Leave a comment, read comments [1]