Apple's Stock Falls Down For The 2011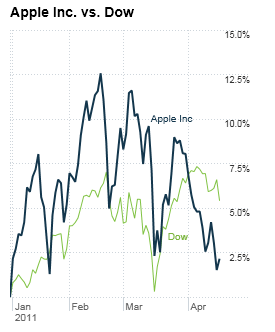 In today's early morning trading Apple's stock was down more than 7$ or 2,2%. As you may know, this Wednesday the company is expected to report new record earnings and such news usually increase company's stock price.  However, Jay Yarow from BusinessInsider sees few reasons for the contrary effect:

This year Steve Jobs took a medical leave of absence;
The Earthquake and following tsunami in Japan may have somehow resulted on Apple;
iPhone 5 will be released at least later than expected this year, which breaks the company's tradition and hints there may be some problems in production or technology progress;
Android shows a real challenge for Apple's smartphone business in the coming years;
There are some questions around iPad 2 supply.
It becomes interesting what Apple will unveil on its upcoming earnings report.
The graph above reveals the fluctuation of DJIA and Apple's stock in this year.

Leave a comment