Apple Releases Fourth iOS 8.3 Beta Available for Developers and Public Beta Testers

Following the release of the fifth OS X Yosemite 10.10.3 beta, the guys from Cupertino on Tuesday made the fourth iOS 8.3 beta available for developers. This same beta is also available for the members of iOS public beta testing program. The release comes nearly two weeks after the release of the previous iOS 8.3 beta, which could boast of support of Google's two-step verification, wireless CarPlay connectivity, new emojis and a number of other improvements.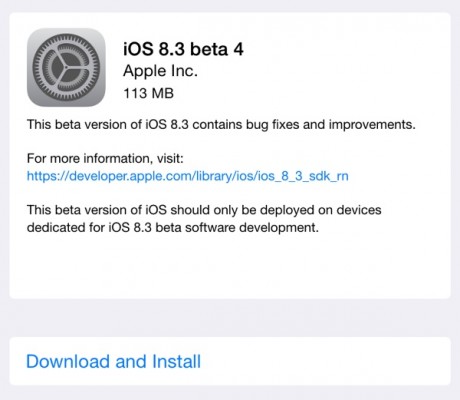 The most-recent version of iOS 8.3 has a build number 12F5061. To be honest, it looks nearly identical to the previous beta. Noticeable improvements include the lack of iCloud Photo Library and the addition of a tab called Unknown Senders in iMessages, which allows to display messages from family members, friends or colleagues separately from other messages. Apart from that, Apple says this update contains bug fixes and improvements.
Those who have a developer account as well as those who have registered as a beta-tester, can download the latest iOS 8.3 build right now. It is available either through Apple's developer portal, or via the Software Update option. I suggest that you should not update if you have only one iOS device and plan to use it as a main one.

Leave a comment