Apple Releases iOS 10.0.3 With Fixes for Cellular Connectivity Issues

Update: iOS 10.0.3 is available only for iPhone 7 and iPhone 7 Plus
Apple has released iOS 10.0.3 with a fix for cellular connectivity issues reported by a number of users from all over the globe. If you own a compatible iPhone running a previous version of iOS 10 and face problems connecting to the cellular network, especially after turning off the Airplane mode, you should definitely give this update a try.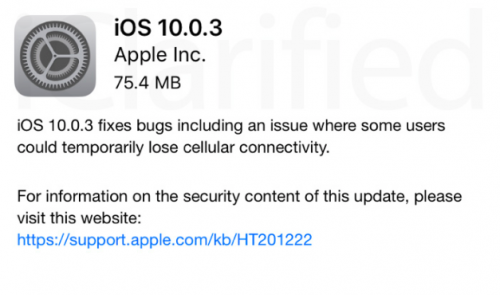 Here's a brief description of iOS 10.0.3:
iOS 10.0.3 fixes bugs including an issue where some users could temporarily lose cellular connectivity.
Those who are interested in security content of the update, should visit Apple's official webpage to get more details.
To download and install the latest version of iOS 10, use the Software Update option on your device or iTunes on Mac or PC.

Leave a comment