Apple Releases iOS 10.1 to Users Worldwide

Apple released iOS 10.1 with new Portrait camera mode for the iPhone 7 Plus, transit directions for Japan, and a wide number of bug fixes and stability improvements for Messages, Maps, Apple Watch, and other areas of the operating system.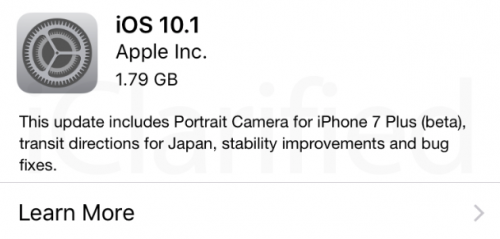 This update includes Portrait Camera for iPhone 7 Plus (beta), transit directions for Japan, stability improvements and bug fixes.
If you're interested in the security content of iOS 10.1, you should visit Apple's official webpage.
If you own an iPhone 5 or newer, iPad mini 2 or newer, iPad 4, iPad Air, iPad Pro or iPod touch 6G, you can download and install the update right now. Simply tap the Settings menu - General - Software Update or connect your device to iTunes and let the app search for the updates. Before the update, don't forget to back up your device so that you don't lose important data when something goes wrong.

Leave a comment