Apple Releases iOS 8 Beta 5 to Developers for Testing

The guys from Cupertino on Monday released the next iOS 8 beta to developers for testing. The release of the fifth beta-version comes two weeks after the release of the fourth beta, so we may assume that the work on the next-gen mobile operating system continues at a normal pace.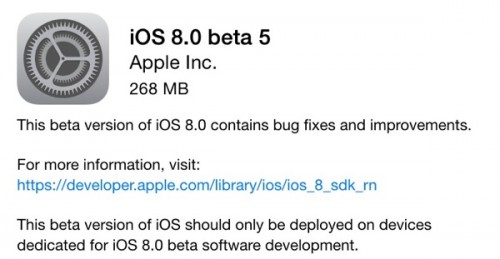 The fifth iOS 8 beta has a build number 12A4345d and contains a number of important bug fixes and stability improvements. Apart from that, it can boast of a bunch of new features and interface tweaks that include enhancements to the Health and Photos apps, slightly redesigned iCloud Drive, Backup and Keychain icons, several new wallpaper settings etc. The most conspicuous newly added feature (well, at least for me), is Predictive text toggle that allows to turn the text suggestions on or off.
Apple's iOS 8 was officially announced at the Worldwide Developers Conference in June. As to the date of the public release, it remains unknown. The guys from Cupertino are expected to make the new version of iOS available for users worldwide alongside iPhone 6 release, which is allegedly set for October 14th.
If you have a developer account, you can download iOS 8 beta right now. Before doing this, save all the important files from your device.

Leave a comment