Apple Releases iOS 9.3.4, Kills Pangu Jailbreak

Apple has just released iOS 9.3.4 to users worldwide. The release comes only a couple of weeks after the release of the last update, iOS 9.3.3. According to the company, the latest version of the mobile operating system contains some security fixes. In other words, iOS 9.3.4 kills Pangu jailbreak, so if you plan to have your iPhone, iPad or iPod touch jailbroken, stay away from the update.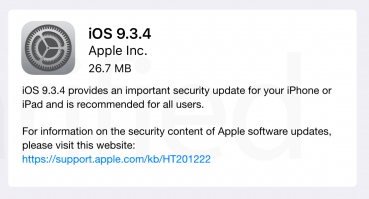 iOS 9.3.4 provides an important security update for your iPhone or iPad and is recommended for all users.
In fact, the company included only one fix in the update. Apple developers patched the vulnerability used by the Pangu team for jailbreak. So far, no other improvements or enhancements have been found.
You can read more about the security content of iOS 9.3.4 on Apple's dedicated webpage.
If you don't need the jailbreak, you can update your device either via iTunes or right from the phone or tablet via the Software Update mechanism.

Leave a comment