Apple releases iTunes 10.1.1, iBooks 1.2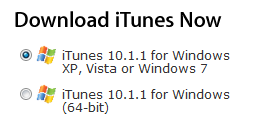 Today Apple has released another minor update for its iTunes software. New version 10.1.1 addresses some issues and bugs that could cause the program to crash. Here is its list:

Unexpected termination when deleting a playlist with iTunes Sidebar showing;
Inability to play certain music videos on Macs with NVIDIA GeForce 9600 or 9400 graphics;
Unexpected program termination when connecting an iPod to a Mac with a PowerPC processor;
Inability to sync certain music videos to an iPad, iPhone or iPod.
It was also found that Apple fixed the "missing Genius Mixes", a problem that was report by many users few days ago. Now you can enjoy your Genius Mixes again by activating and/or updating Genius.
New version of iTunes is available via Software Update or as a direct download here.
iTunes 10.1, which is a previous update, was released last month and added support for iOS 4.2 and AirPlay functionality.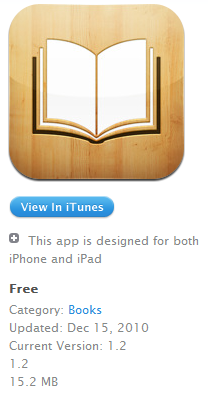 Besides that, Apple has also released a new 1.2 version of iBooks. Now it has a Collection functionality to organize PDFs and books, AirPrint support, and allows to experience fully illustrated books that are available in the iBookstore.
iBooks also started using automatic hyphenation, which allows to place more words on the page, but this feature is available only for devices with iOS 4.2.
The interface looks to be more polished now and the icon was slightly redesigned. New collection now can be created by tapping a proper button and entering a name. To add a book to it click "Edit", then "Move". Moving between collections can be done with swiping left or right.
iBooks 1.2 can be downloaded here.

Leave a comment