Zuckerberg Became a Time's Person of the Year, Jobs Listed as a Person Who Mattered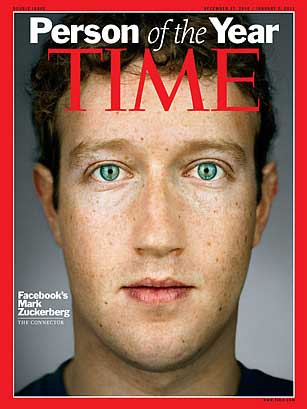 This week Time magazine has published its annual "Person of the Year" issue with Mark Zuckerberg posted on its cover. Apple's CEO didn't receive that title though it was named among "People Who Mattered":
"With each passing year Steve Jobs and his sleek Apple products not only succeed in impressing the techiest of tech addicts, they also manage to create a whole new batch of gadget enthusiasts.

It was also noted that in 2010 Apple became the largest technology maker worldwide. The magazine highlighted the success of such apps as "Angry Birds" and Jobs' partnership with Pixar that led to a great box office success of "Toy Story 3". However, iPhone 4 "Antennagate" problem, Gizmodo's story of a prototype found in a bar and AT&T's exclusivity in offering iPhone 4 were also mentioned as "lows" of the year.
"People Who Mattered" list also includes President Barack Obama, the cast of "Jersey Shore", football player Michael Vick and entertainer Conan O'Brien.
Mark Zuckerberg was chosen as a "Person of the Year" due to his achievements in "connecting more than a half billion people and mapping the social relations among them; for creating a new system of exchanging information; and for changing how we all live our lives."
Earlier Jobs and Zuckerberg tried to connect Ping and Facebook, but the latter demanded too "onerous terms" for that, according to Apple's CEO.
In 2009 Steve Jobs was a finalist for Time's "Person of the Year", but title was eventually taken by Federal Reserve Chairman Ben Bernake.

Leave a comment