Apple Will Open Its Mac App Store On Jan. 6 In 90 Countries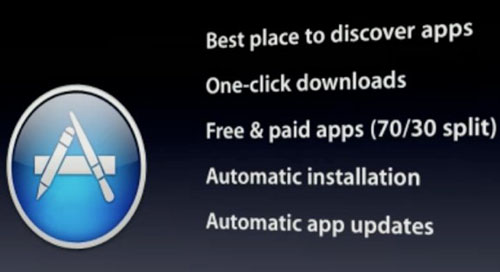 Yesterday Apple revealed that its Mac App Store will be opened on Jan. 6, 2011.
New App Store will offer both paid and free applications for Mac OS X Snow Leopard in such categories as Utilities, Productivity, Lifestyle, and Graphics & Design. Steve Jobs also told it will be available in ninety countries at launch.
"The App Store revolutionized mobile apps. We hope to do the same for PC apps with the Mac App Store by making finding and buying PC apps easy and fun. We can't wait to get started on January 6".

With new Mac App Store users will be able to browse apps, study what's hot, know staff favorites, search categories and read customer reviews and ratings. Similar to the iPad, iPod touch and iPhone, Mac will allow its users to purchase, download and then install apps in one click to start using it immediately.
Every purchased app will work on any Mac. Updates will be delivered through the Mac App Store so keeping apps up to date is pretty easy thing to do. To use the Mac App Store Mac OS X Snow Leopard users should install it for free through Software Update.
Every Mac developer sets its own price for his apps and keeps 70% of the sales revenue. If you're a developer who is interested in bringing his programs to the Mac App Store, you can learn more about it here.  developer.apple.com/programs/mac
Thus previous rumors on the launch of the app store for Mac in January 2011 had been confirmed, though it is still unknown whether the new iWork '11 productivity suite will be unveiled on the presentation of the Mac App Store or not.
The Mac App Store will be offered as an app for Snow Leopard and as an integral part for forthcoming release of Mac OS X 10.7 Lion, which will be launched in the summer of 2011.

Leave a comment