Apple Releases Second Beta of OS X El Capitan 10.11 to Developers for Testing

Apple has recently seeded the second beta of OS X El Capitan 10.11 to developers. The release took place nearly two weeks after the official announcement and the release of the initial beta of the new desktop operating system at Apple's Worldwide Developers Conference.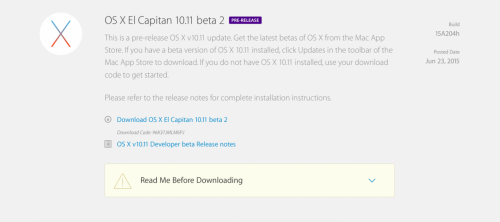 OS X El Capitan 10.11 Beta 2 has a build number 15A204h and contains a number of stability and performance improvements. If to compare this version to the previous one, we'll notice that there are no new features added to the most-recent seed. However, if to compare OS X 10.11 to OS X 10.10, there're some design enhancements e.g. new system font as well as changes for Mail, Photos, Maps and a number of other applications. There are also many under-the-hood updates that make the operating system faster and more stable.
OS X El Capitan largely builds on the features introduced with OS X Yosemite, focusing on improving performance and user experience. Behind-the-scenes improvements in El Capitan have made a number of apps and processes on the Mac much faster, and the introduction of Metal makes system-level graphics rendering 40 percent more efficient.
If you have a developer account, you can download the latest OS X El Capitan 10.11 beta right now. As usual, it is available either on Apple's dev portal or in the Updates section of the Mac App Store. I strongly recommend not to install this version of OS X on your main computer.
[via MacRumors]

Leave a comment