Apple Releases Second iOS 8.4 Beta to Developers for Testing

Apple has just released the second beta of iOS 8.4 to developers for testing. The release came less than two weeks after the release of the very first iOS 8.4 beta, which could boast of a completely redesigned Music app with lots of new tweaks as well as a number of bug fixes and performance improvements. According to the release notes, the latest version of Apple's mobile operating system features only some minor stability enhancements. As to the new features, the developers haven't yet noticed any. I will let you know if they find anything new.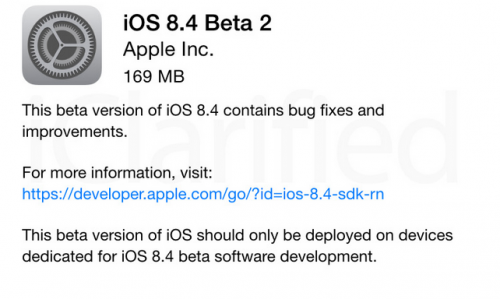 Here's what iClarified reporters write about the new beta version of iOS:
Apple has released iOS 8.4 Beta 2 to developers for testing.

[...]

We'll let you know if there is any new features in the build. The first beta of iOS 8.4 brought a revamped Music app.
If you have a developer account and a compatible iPhone or iPad, you can download the latest iOS 8.4 beta right now. As usual, it is available either through the Software Update option, or via Apple's developer portal. Keep in mind that it's not recommended to install this version of iOS on your main device as it may still be quite unstable.

Leave a comment