Apple Releases Seventh OS X 10.11 El Capitan Beta to Developers, Fifth Beta to Public Testers

Apple on Wednesday seeded the seventh beta of OS X 10.11 El Capitan Beta to developers for testing. The release of this version came two weeks after the release of the previous OS X 10.11 beta and about two months after the official announcement of El Capitan at Apple's Worldwide Developers Conference. Apart from the version for developers, the guys from Cupertino have also seeded the fifth OS X El Capitan beta to the members of the public beta testing program.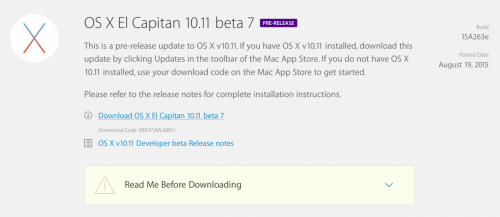 The latest beta for developers has a build number 15A263e and the latest pre-release version of OS X 10.11 for public testers can boast of an index 15A262e. Both updates include some minor improvements and bug fixes, for example, new Safari welcome screen, new color for the El Capitan logo in the About This Mac section and a number of other hardly noticeable changes. As you know, OS X 10.11 El Capitan is an under-the-hood update aimed at making Apple's desktop operating system more stable and efficient.
If you have a registered developer or public beta tester account, you can download the latest OS X 10.11 beta right now. It is available through the Software Update section of the App Store or via Apple Developer Center.
Apple will release OS X 10.11 El Capitan to users worldwide this fall.

Leave a comment