Apple Reveals Results for Financial Q1 2017

Apple has announced its financial results in the first quarter of fiscal 2017. According to the official figures, the revenue accounted for $78.4 billion and net profit made $17.9 billion. In 2016, the these numbers were different: $75.9 billion and $18.4 billion respectively.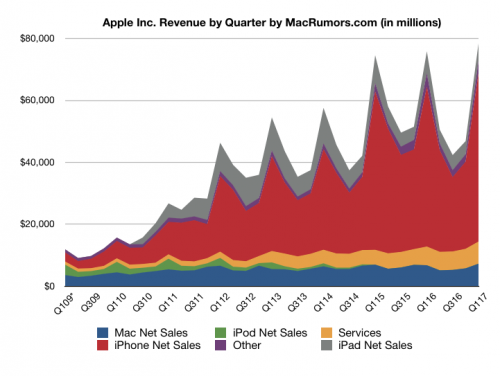 Over the last three months, the company has sold 78.3 million iPhone units (74.8 in Q1 2016), 5.4 million Mac units (5.3 in Q1 2016), and 13.1 million iPad units (16.1 in Q1 2016). Unfortunately, the company doesn't reveal information about the Apple Watch sales leaving the device in the "Other" section. Apple CEO Tim Cook says that the customers spend more on apps and services these days.
"We're thrilled to report that our holiday quarter results generated Apple's highest quarterly revenue ever, and broke multiple records along the way. We sold more iPhones than ever before and set all-time revenue records for iPhone, Services, Mac and Apple Watch," said Tim Cook, Apple's CEO.
Next quarter, Apple plans to get the revenue of $51.5–53.5 billion. You can take a look at the financial report shared by Apple at link.
[via MacRumors]

Leave a comment