Apple Said Nearly 300 Million Devices Are Running iOS 6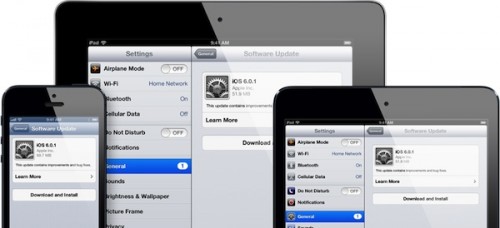 Today, Apple published an iOS 6.1 press release revealing some impressive numbers on iOS platform and iOS 6.1 usage. As of today, 300 million iOS devices – iPod touch, iPad, and iPhone – are running iOS 6, with 450 billion iMessages sent, over four trillion notifications received and nine billion photos uploaded to Photo Stream.
As EdibleApple points out, 300 million devices running iOS 6 represent about 60 percent of all iOS devices sold:
"During Apple's most recent earnings call, Apple CEO Tim Cook said that Apple to date has sold over 500 million iOS devices. If we put those pieces together, we see that over half of every iOS device ever sold is now running the most recent version of Apple's mobile operating system. Contrast that of course to Android where a scant minority of users are ever caught running the most recent iteration of Android".
The Next Web notes that Apple sold nearly 75 million iOS devices during the first quarter of 2013 alone, all of which with iOS 6, and registered 100 million upgrades to iOS 6 in the first week of its availability in September.
Apple has been successful in keeping iOS devices upgraded to the latest iOS version, particularly via the over-the-air update feature, which was introduced in iOS 5 last year.

Leave a comment