Apple Seeds OS X Yosemite 10.10.5 Beta 3 to Developers

Just after releasing OS X 10.11 El Capitan Beta 6 for developers and seeding OS X 10.11 El Capitan Beta 4 to public testers, the guys from Cupertino have made the third OS X Yosemite 10.10.5 beta available for developers. The release comes nearly one week after the release of the second OS X 10.10.5 beta and about a month after the debut of the very first testing version.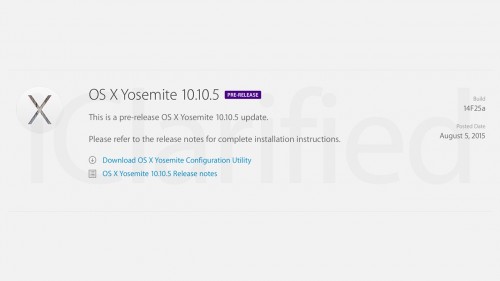 The latest update has a build number 14F25a and unlike previous builds, it reportedly contains a fix for the recently-discovered DYLD_PRINT_TO_FILE exploit affecting Apple's operating system. If you're using OS X 10.10, you should upgrade to OS X 10.10.5 immediately after Apple releases it to public.
Apart from the aforementioned fix, the latest version of Apple's desktop operating system contains a number of security, stability and performance enhancements. In general, OS X Yosemite 10.10.5 is an under-the-hood update, just like OS X 10.11 El Capitan.
If you have a developer account, you can download the latest OS X beta right now. It is available either from Apple's dev portal or via the Software Update mechanism of the Mac App Store. Keep in mind this is a pre-release build that may be unstable and incompatible with some applications.

Leave a comment