Apple Sold 4.1 Million Apple Watch Units in Q4 2015, 11.6 Million in 2015 Overall

According to the latest report shared by IDC, the Apple Watch sales in the holiday quarter of 2015 accounted for impressive 4.1 million units or 15% market share. Such result allowed Apple to occupy the second spot in the ranking of top wearable device manufacturers. The first place was taken by Fitbit and the third one went to Xiaomi.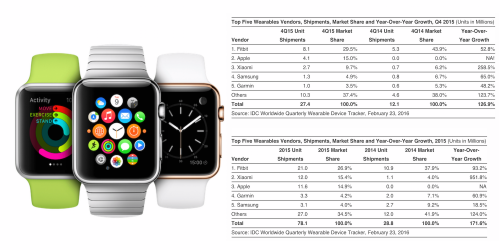 Closely mirroring other recent reports, IDC puts Apple Watch sales at approximately 4.1 million units during the important holiday quarter, positioning Apple at #2 only behind Fitbit (which wouldn't be included at all if we were to look at just full-featured smartwatches).
As to the annual sales, Apple reportedly sold 11.6 million Apple Watch units that accounted for 14.9% of the market. The number of smartwatches shipped during 2015 placed Apple on the third spot of the aforementioned ranking, right behind Fitbit and Xiaomi.
Apple is expected to update the existing Apple Watch lineup with new bands and watchOS 2.2 as soon as in March. This will surely boost the sales of the wearable device.
[via 9to5Mac]

Leave a comment