Apple Sold 55.3 Million iPhones Last Quarter - Analysts

According to Fortune's recent report, Apple sold as many as 55.3 million iPhone units during the Q4 of 2013. It should be noted, however, that these are only the estimates made by a group of professional and amateur financial experts, not the actual results.
As usual, the predictions made by professionals and young analysts differ.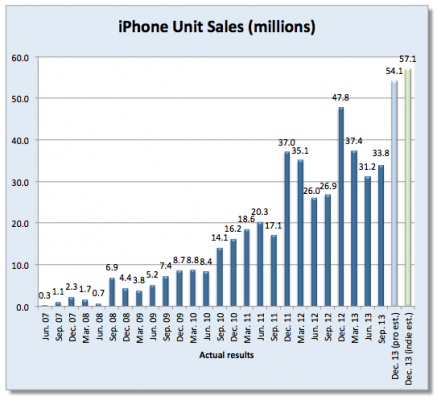 Here's what iClarified writes:
The pros are estimating an average of 54.1 million iPhones sold; whereas, the indies are estimating 57.1 million iPhones sold. That gap is pretty narrow, especially considering a year ago it was about 20 million between the high and the low estimate.
The company from Cupertino is expected to report about the financial results of the last quarter on January 27th. This is the date when it will reveal the information about the iPad Air, Retina iPad mini and iPhone sales. Let's wait.

Leave a comment