Apple Splitting iPod Touch Lineup Between Current and New Designs, Increasing Color Options for iPod Shuffle and New Nano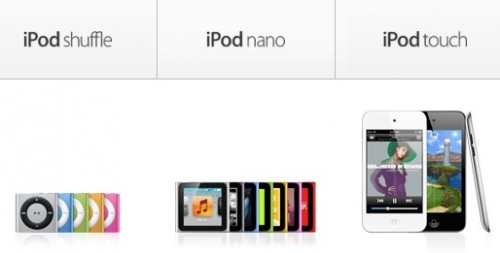 Apple will reportedly make at least minor changes to their three current iPod lines. 9to5Mac shares some details on Apple's apparent plans for updated iPods reportedly set to be introduced alongside the iPhone 5 at next Wednesday's media event.
- iPod shuffle: The biggest change perhaps being the availability of eight different colors compared to the five color options on the current model. The current $49 pricing is likely to remain in effect, but it is unclear if the current 2 GB capacity will carry over to the new models.
- iPod nano: Cases for a larger, redesigned iPod nano have begun surfacing, and 9to5Mac's report indicates that a new code name for the device is indeed suggesting more than a minor refresh. The new iPod nano is also said to come in eight different colors, up from the current seven color options. Interestingly, the report indicates that Apple may streamline the iPod nano lineup by offering only a single storage capacity, compared to the current 8 GB and 16 GB options. The report says that pricing is likely to be similar to the current high-end iPod nano price.
- iPod touch: The device will reportedly receive a similar 4-inch display to that apparently coming to the iPhone 5. But today's report indicates that Apple may take a hybrid approach to its lineup, releasing a tweaked version of the current design with a either (or a combination of) a smaller dock connector, new packaging/iOS 6 pre-installed, or a bump in the base storage capacity configuration.

Leave a comment