Apple Starts Accepting Pre-Orders for Apple TV 4

Just like it was announced by Tim Cook last week, Apple has just started accepting the pre-orders for the fourth-generation Apple TV. The new set-top box features an efficient A8 processor, 2GB of RAM and 32GB of 64GB of internal storage. Apart from that, the device now supports a brand new Siri Remote, universal search option and a separate App Store with applications from third-party developers.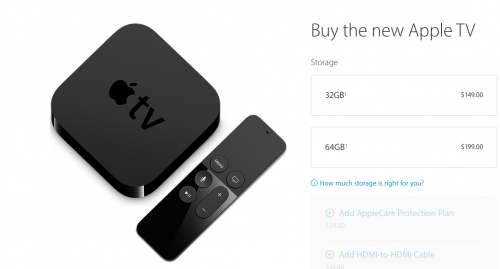 If you live in the USA or any other country of the first wave of launch, you can pre-order the updated Apple TV right now. Apple should start shipping the pre-ordered devices later this week. To place an order, you can use this link. Hurry up, as the demand for the updated Apple TV is incredibly strong and the first batch of set-top boxes may be not very large.
As to the prices, they start from $149 for the 32GB model and end with $199 for the 64GB Apple TV 4. It should be noted that the prices in other countries may be slightly higher due to different exchange and tax rates.
Apart from the new set-top box itself, Apple is selling extra Siri Remotes and Remote Loop wrist straps for $79 and $12.99 respectively. If you think you need any of these accessories, you can purchase them on Apple's Online Store right now.

Leave a comment