Apple to Acquire Swell Radio Soon?

Looks like Beats Electronics wasn't the only music-related company the guys from Cupertino planned to purchase this year. According to the latest report from Re/code, Apple is currently considering the possibility of buying the firm behind the music streaming application called Swell Radio. The price of acquisition is $30 million.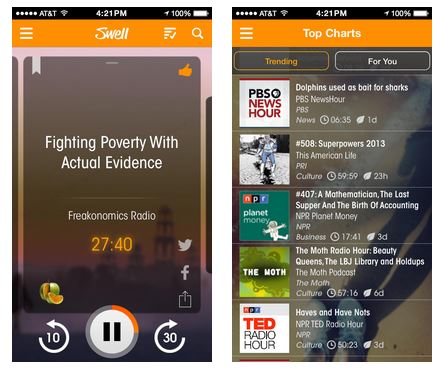 It has been said that the negotiations between two companies are at their most active stage, however, both Swell Radio and Apple representatives keep silent. Well, as usual.
Swell Radio lets you listen to personalized audio news and information for free from your mobile device. It offers access to unlimited streaming audio from iTunes, NPR, ABC, ESPN, BBC, CBC, TED and more.

Swell has a simple UI that lends itself to in-car listening and a high 4.5 star rating; however, it reportedly had trouble finding a lot of users.
Looks like the acquisition will help Apple integrate new functionality to iTunes and iTunes Radio. Moreover, the purchase will be equally beneficial for Swell Radio and the team behind the app as all these people will join Apple.
[via iClarified]

Leave a comment