Apple to Announce Financial Results in Q2 of Fiscal 2016 Next Tuesday

Apple will announce the financial results in the second quarter of fiscal 2016 on Tuesday, April 26th. Back in March, it was reported that the company will reveal the information about iPhone, iPad, Apple Watch and Mac sales as well as the amount of money earned during the last couple of months on Monday, April 25th.
After the conference call, Apple is expected to share the audio from the event and publish a detailed report on the financial gains, so stay tuned for more updates on the topic.
Apple has recently unveiled the 4-inch iPhone SE that is extremely popular among the customers in China and other countries. This device may help Apple generate record revenue in this quarter.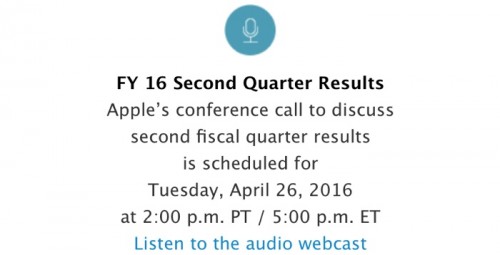 Leave a comment