Apple Updated App Store Search Algorithms

If you have difficulties in typing on iPhone (just like me), then the piece of news I'm going to share with you will surely be useful. According to what has been posted on AppleInsider, Apple has recently updated App Store's search algorithms for better recognition of misspelled words. So if you're searching for "hotwls" instead of "hotels" - now you'll find what you need.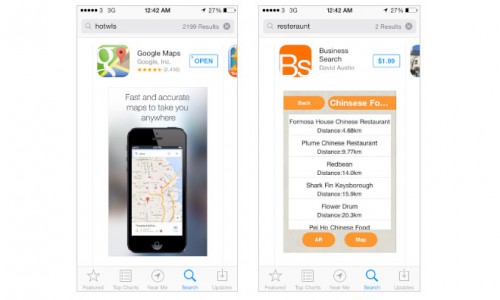 The changes were put into production "a few weeks ago," according to TechCrunch. Executives with App Store-related analytics and marketing firms also confirmed a recent shift in the storefront's search results.

Data compiled by SearchMan CEO Niren Hiro suggests that the changes bring mixed returns. A pre-update search for "resteraunt" returned only a single result, while a post-update search for the same term returned just two results out of the thousands of apps bearing the properly-spelled keyword "restaurant."
But still I think it's an improvement. At last I will be able to find all I'm looking for at the first attempt. Thanks, Apple!

Leave a comment