iPhone 5s In Stock Again - Piper Jaffray

Apple suppliers have finally produced enough iPhone 5s units to catch up with the demand, latest survey claims. Well, almost - currently about 90% of the flagship models are available for purchase at the company's retail stores. And it's a very substantial increase, I must admit. iPhone 5s supply grew from 31% on November 11th to what we have now.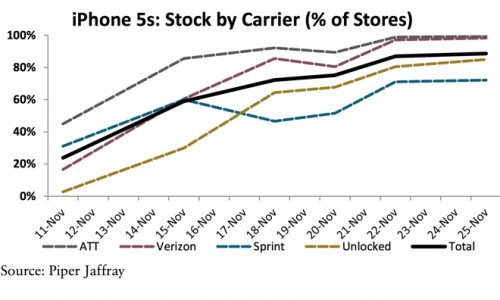 As noted by AppleInsider,
Availability of the iPhone 5s is even greater for models compatible with America's two largest carriers, AT&T and Sprint, according to data published Tuesday by Gene Munster of Piper Jaffray. He found that 99 percent of iPhone 5s AT&T SKUS are in stock at Apple stores, while 98 percent of Verizon models are fully available.

Together, AT&T and Verizon account for 75 percent of the U.S. wireless market, which means the vast majority of American customers can easily get their hands on the iPhone 5s model of their choice.

[...]

The poll did include phones compatible with Sprint, the third-largest carrier, and showed that 72 percent of Sprint iPhone 5s units were in stock.
Gadgets locked on these three carriers make 90% of the iPhone market in the country.
The Munster's survey did not include unlocked iPhone 5s units compatible with the fourth largest carrier in the USA - T-Mobile, so the number of devices available is probably even bigger than 90%. What that means is that it is time to upgrade.

Leave a comment