Apple Updates Boot Camp with Support of Windows 10

Several weeks after the release of Windows 10, Apple has updated Boot Camp with the support of this operating system. Although the updated Boot Camp 6 is not yet available for public, several MacRumors readers have noticed that the update can be downloaded from Windows partitions in Boot Camp.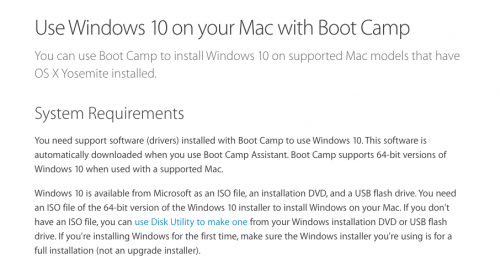 Apart from the support of Microsoft Windows 10, Boot Camp 6 now can boast of the support of USB 3, USB-C, Thunderbolt, built-in SD and SDXC card slots, Apple SuperDrives as well as Apple keyboard, mouse and trackpad. If you're an OS X user, but for some reason need to have Windows close at hand, soon you will be able to get in on your Mac.
Apple today released an update to Boot Camp with support for Microsoft Windows 10, according to a new support document. The update, Boot Camp 6, is still propagating and is not yet available for OS X.
If you plan to use Windows 10 on your Mac, you will need a licenced copy, which is sold for $119. If you have Windows 7, 8 or 8.1, you can upgrade to the newest version of the operating system for free.
[via MacRumors]

Leave a comment